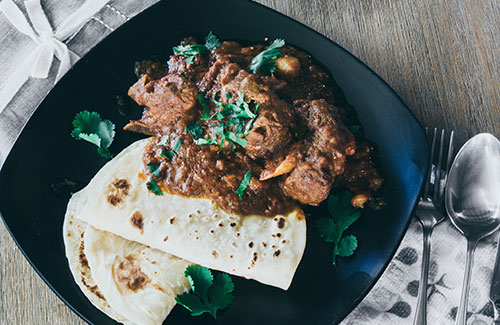 INGREDIENTS
3 tbsp Life's Good Massaman Curry Paste (Add Massaman Curry Paste to Cart)
500g Chuck or Blade Beef diced into large cubes
200ml beef or vegetable stock
3 or 4 waxy potatoes diced into large cubes
6 small Pickling Onions peeled and left whole
1 cup extra vegetables to your taste - we love Carrots, Pumpkin, or Sweet Potato
400ml Coconut Cream or Coconut Milk
METHOD / DIRECTIONS
Place 3 tbsp Massaman Curry Paste in hot frying pan and fry until fragrant. If unaccustomed to spicy foods, add 2 tbsp paste.
Add diced chuck or blade beef and fry until slightly browned and coated in paste. Transfer beef and curry paste into slow cooker bowl.
Use a little of the stock to swish around in the frying pan used to fry off the paste and beef to lift any stuck paste. You really don't want to waste any of that deliciousness. Tip into slow cooker bowl and add the remaining stock. Stir to combine.
To the slow cooker bowl, add waxy potatoes and pickling onions. If using additional vegetables, add these at this stage.
Slow cook for 4 hours on high setting or 6 hours on low setting.
At approximately 20 or 30 minutes before serving, stir through 400mls coconut milk or coconut cream and gently warm through.
Serve with rice, peanuts and fresh chilli to taste.
TIP! The reason for adding coconut milk or coconut cream at the later stage of the cook is to avoid splitting or curdling.